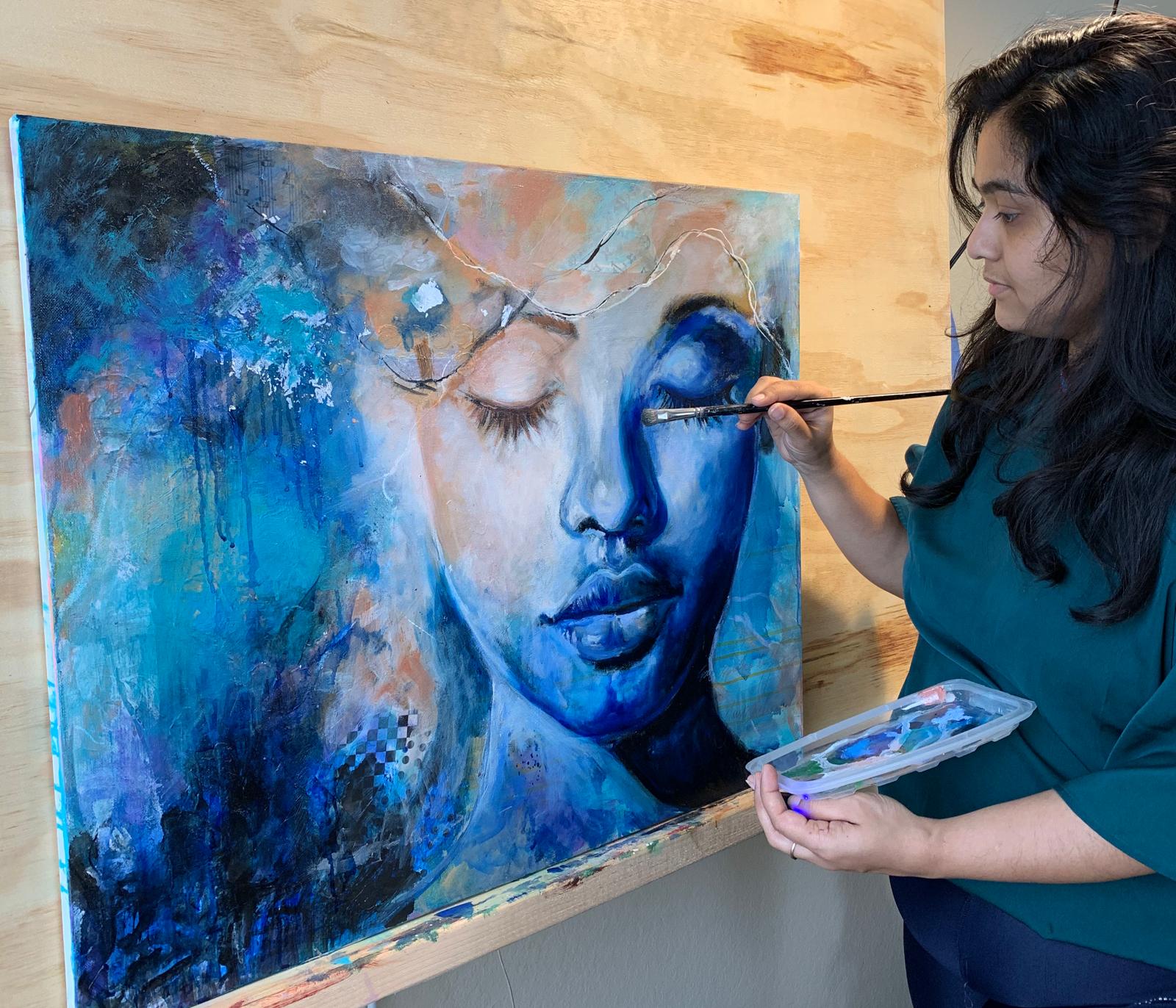 Welcome to My creative space. I am Vandana Mehta. I am a visual artist. I am a self-taught artist and pursued my art education through workshops with accomplished artists. I have studied the art of Sargent and Turner in developing my fine art techniques..
I am drawn to gestural beauty and draw inspirations to begin with.
I work with oil paints on canvas and Plexiglass, with an underpainting in acrylic, inks and gold leaf. Laying paint in layers of oils and glazes creates rich visual texture. I am currently working on a new series "Efflorescent" Meaning Burst into flower.. They are modern women with Flamboyant Floral Head pieces . Anonymity in them  gives viewers a voyeuristic escape, imagining they are part of a different life or reminding them of a piece of theirs. As a young artist, my style is constantly evolving and changing but it revolves around my experiences and obesrvation of the world I live in. I incorporate classical painting techniques into my feminine portraits. These emersions of painting styles intices the viewer to create an interactive discussion about the women in the paintings
In current times where beauty and body is given more importance then mental health. We are still facing social pressure in subtle ways than before. I try to communicate these social conditions and create empowering work which discusses this troubling dichotomy, and present a new visual language against idealization of beauty. I experienced these challenges in my early adulthood. I learned self acceptance through meditation and art, and was able to rise above that and be the woman I am now and understand value of Self Love.
My atmospheric landscapes are other paintings reflect the natural world around me: different perspectives and possibilities; sometimes dramatic, other times hazy and subdued. I explore light and values in my landscapes, creating the reflective mood of the nature that surrounds me. My artistic style reflects my experiences in India and in US